Image

18th March 2020, 8:30
2-day Chest X-RAY Course
26th March 2020, 08:30 – 17:10, and 27th March 2020, 08:30 – 14:00
Doctors of all levels welcome (FY1, FY2, CT, SpR, GPST, GP, SAS and Consultants) whatever your speciality and level of confidence in CXR interpretation. Senior Radiographers and Specialist Nurse Practitioners with an interest in CXR are also welcome. 
COURSE INFORMATION:
The Chest X-ray is the most commonly performed diagnostic radiographic examination. Interpretation may appear to be simple, but in fact requires a strong understanding of anatomical, pathological and radiographic principles. This two day course will help you develop or refine your systematic approach to chest X-ray review.  We will cover a wide variety of pathology which will increase your confidence in day-to-day CXR clinical interpretation and help you prepare for exams.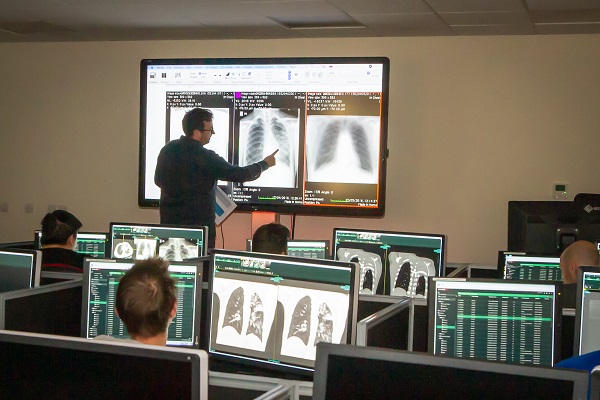 This course places attendees into groups according to their level of experience in CXR interpretation, from basic case review to advanced interpretation. 
AGENDA: 
DAY 1, 08:30 – 17:10
Imaging technique and quality assessment (30min presentation)*
CXR anatomy and variants (45 min presentation)*
Artefacts, chest wall, upper abdominal pathology practical session*
Pleural, hilar and mediastinal pathology - practical session*
Cardiovascular pathology - practical session*
Lung fields pathology - practical session*
DAY 2, 08:30 – 14:00
How to report/read CXR reports (30 min presentation)
Focal pulmonary pathology and review areas pathology - practical session*"
Cases review Session 1 - practical session*
Cases review Session 2 - practical session*
Miscellaneous cases quiz session - practical session*"
* Tutored practical sessions in groups of up to 20 candidates rotating through different workstation rooms.
"A smart device (phone or tablet) or a laptop required to be able to vote in interactive quiz session.
COST: £220.00 This includes all refreshments and lunch on both days.
CPD CREDITS: 12 Category One CPD credits awarded.
ORGANISED BY:
Dr Aleksander Marin - Cardiff and Vale UHB
Dr Grant Griffiths - Cwm Taf Morgannwg UHB
Dr Tim Pearce - Cwm Taf Morgannwg UHB
Dr Tishi Ninan - Swansea Bay UHB
FACILITIES: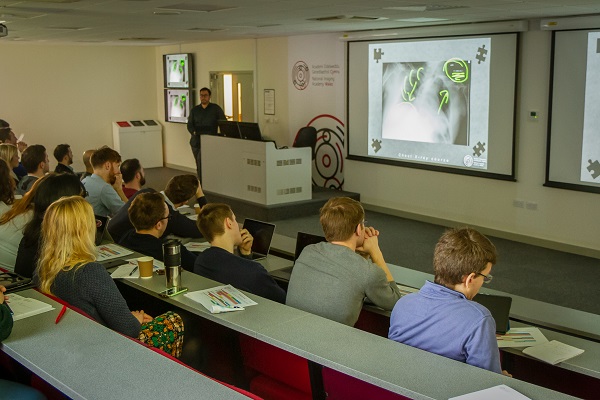 Includes state of the art: 100 seat lecture theatre, Two Fuji workstation classrooms (to seat 20 trainees) One computer room (equipped with Apple computers for 20 trainees). One candidate per one workstation allows you to review images at your own pace.  
ACCOMODATION: The Academy benefits from easy access to the local Premier Inn, which has its onsite restaurant and is opposite our site. There is also a Travelodge situated in Pencoed, a mere 5 minute drive away. Alternatively, the Best Western Heronston Hotel & Spa is a 10 minutes' drive away and both Cardiff and Swansea are within a 30 minute drive.
COURSE PAYMENT: Registration for the course will only be considered complete once payment has been received. The full payment details will be forwarded once the registration form has been received by the Academy.
REGISTER: Please complete the form to register for the course https://forms.gle/hUGQq4yg26GiRHa3A